Pastor Jose Rosa
Pastor Rosa has been serving the First Congregational Church of Chicago since 2000. Both Pastor Rosa and his wife Aurelia Rosa are originally from Puerto Rico. There he studied mathematics at the University of Puerto Rico. Later, receiving a call to serve the church, Pastor Rosa studied theology at the Evangelical Seminary of Puerto Rico. Coming to the states Jose Rosa furthered his studies at McCormick Theological Seminary and subsequently developed and refined his talent for preaching at the Academy for Preaching. Modeling his dedication to youth development before joining the church, Jose Rosa spent several years as a high school math teacher. Since taking up his call to ministry, he has served congregations both in Puerto Rico and Illinois. Before coming to the United Church of Christ, he worked as a district superintendent with the Methodist Church in Chicago. In 2000, he began serving FCC. Jose Rosa is married to Aurelia Rosa who together have three children.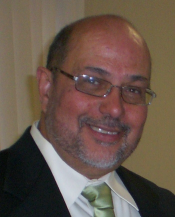 Luis Quiñones
Luis is our Administrative Assistant here at the church. He also works with The Center for Faith and Community Health Transformation on outreach to Latino congregations and on leading dialogues and action workshops for the Communities Putting Prevention to Work project. He is a Puerto Rican minister and currently is a member of the First Congregational Church of Chicago UCC.
Luis worked most recently with the AIDS Pastoral Care Network in building congregational relationships. He also has experience managing non for profit programs in Latino neighborhoods focus on issues such as foster care, education, prevention of sexually transmitted infections and the development of faith based HIV/AIDS ministries and awareness.
He studied in the University of Puerto Rico and has a BA degree with concentrations on languages and humanities. He also holds a Master of Divinity degree from the Puerto Rico Evangelical Seminary. His work with Latino churches in the west side of Chicago gave him the opportunity to learn and develop skills in areas such as advocacy, leadership development, Christian education, and community organizing.
Through the years his major concern has been how to respond with faith to the challenges that the church and the Latino communities in Chicago faced in a daily basis. For Luis, the answer of this question is elusive, but he is convinced that thru a contextual reading and study of the bible, different communities of faith could find their own path to a faith that nurture life, generosity and solidarity. To read some of Luis' work toward answering these kinds of questions, check out his blog, Luz y Logos.